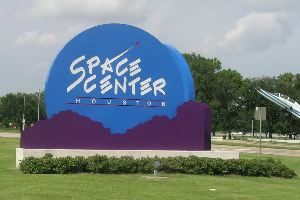 Space Center Houston
Space Center Houston is the most attractive tourist destination in Houston area. There are many precious artifacts, like the return capsule of the Appolo moon landing, moon rocks that you are allowed to touch with your own heads, introduction and high tech demonstration of moon landing, ... [details]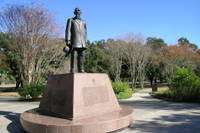 Hermann Park
Hermann Park is located in the southwest of downtown, occupying 165 acres of land and surounded by Texas Medical Center, Rice University, Houston Zoo and numerous museums. This park is in fact the center of tourist destinations in the Houston downtown area ... [pictures and details]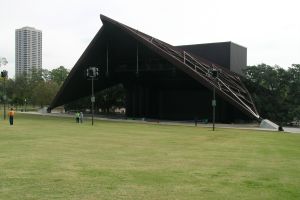 Miller outdoor theater
Located inside the Hermann Park, this theater is the most popular destination for houstonians during the summer. From March to November, numerous show are staged here, from symphony to jazz, from dance to ballot, to opera ..., all for free. [details]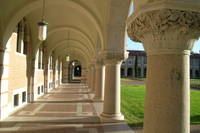 Rice University
Often referred to as the Harvard of the south, Rice University is not only known for its academics but also for its beautiful campus -- the Mediterranean style buildings, unique in US, and you will never forget. New couples often take wedding pictures here during the weekends... [Rice campus pictures]
The Museum District is located southwest of downtown, on the northeast corner of Hermann Park.
Museum of Fine Arts
Museum of Natural Science
Contemporary Arts Museum
Children's Museum
Houston Museum of Health and Medical Science
Museum of Printing History
National Museum of Funeral History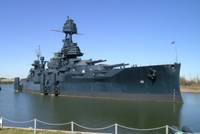 San Jacinto Battleground
The battleground is on the east side of Houston, outside of Hwy 8, near the entrance of the ship channel of Port of Houston. In April of 1836, Mexican President, General Santa Anna chased the rebellion army lead by General Sam Houston, but was ambushed by Houston. The battle lasted only about 15 minutes before Santa Anna's army surrended. This not so big battle eventually led to the independence of Texas from Mexico. By the battle field there was USS Texas, the only existing battleship that took part in both World War I and World War II. [pictures and details]
The largest medical center in the world.
China Town
Houston has two China Towns, the old one near downtown (just south of Hwy 59), the new one on the west side, Bellaire and Hwy 8. The new China Town is growing very fast.
Houston Zoo
Houston Zoo are not the best in US, yet it does have many animals, some of them rare. It also costs less to visit, only $8, well worth it. There are two entrances, one inside Hermann Park, the other just cross the stree from Hermann Hospital.
Free boat tour of the port everyday, 10am and/or 2:30pm, but you need to register online first.
Galleria
Strictly speaking, Galleria is not part of Houston, but another city enclosed by Houston. Famous for its shopping mall, Galleria is just off west loop Hwy 610. There are many other cities inside Houston, like Bellaire, West University.
Moody Gardens
This Galveston park is a collection of botonic garden, zoo, aqurium, and science park. It contains an IMax theater.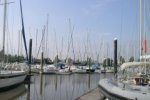 Kemah Boardwalk
Close to Space Center Houston, NASA and by the Galveston Bay, it is a famous entertainment park and shopping area. You can tour Galveston Bay by boat there. There is also a marina nearby.