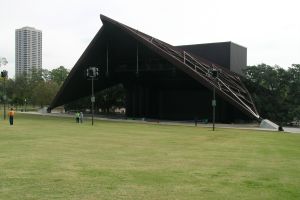 Miller Outdoor Theater sits on the northeast corner of Hermann Park, close to the Museum of Natural Sciences Museum, the Sam Houston Statue and Houston Zoo. From March to November, it has regular shows on weekends, and sometimes at 11am (kids show), all available free of charge: symphony, ballot, opera, jazz, dance, you name it.
Free does not always mean low quality. In fact, many shows are first class and even the best of the world, like the Nutcrackers, Madame Butterfly, Swan Lake, Hemlet, Carmen. Every year it invites famous artists from around the world to perform here, from Australia, China, Mexico, Ireland, Russian, Greece, African countries ...
Every year from the end of July to mid-August, Miller Outdoor Theater stages the Shakespeare Festival, and 2007 is the 33rd.
Miller Outdoor Theater is only half "outdoor" afterall, there are over 1000 seats under covers. You may obtain tickets on the day of the show at 11am from the ticket office, or in the evening just before the show. Five minutes before the show starts, all seats are open to seating.
Although seated area provides better audio (almost as good as in a theater), many people still prefer the area on the lawn. What can be better than the whole family (or a couple) relax on the lawn in a summer night and enjoy the beautiful performance?
Link: Miller outdoor theater, Hotels in Houston, Other Attractions in Houston