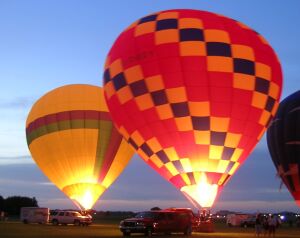 The annual Ballunar Liftoff Festival of Houston is held at the NASA Johnson Space Center in southeast Houston, usually on the forth weekend in August. The is the largest hot air balloon event in Texas and features about 100 hot air balloons.

Before the 911, the festival is always held at the same time as the NASA "open house". Because bullunar liftoff is usually before 9am or after 6pm, you can spend the day time in NASA. Now the open house is gone due to the highlightened security, but you are still able to visit limited facilities inside NASA. Be sure to lower your expectations though. NASA has a booth inside the liftoff ground, just as many other companies do. If you are lucky, you may get signatures from one of the astronants and take pictures with them.

Although there are many other activities during the day to keep you busy, like skydiving and aerial demonstrations, don't forget that the main purpose of your trip is the balloon. Better wait until dark to see all the balloons light up (glow), it's really amazing.
When: 4th weekend of August, 6-10pm Friday, all day Saturday, 6-12am Sunday. (2007 event is postponed to Nov. 2-4 due to excessive rain)
Where: NASA Johnson Space Center (southeast Houston, NASA Road 1)
Cost: $10 per car
Links: Ballunar Liftoff Festival, Search Low Fare Flights to Houston